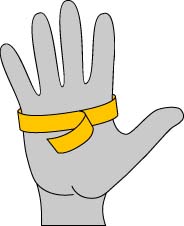 How to determine your size
Step 1:
Referring to the illustration, wrap a tape measure around the palm of your right hand (or left hand if you are left-handed) and pull to a comfortable fit. Note the number of inches around your hand.
Step 2:
Note your height, weight, age & shoe size.
Have this information ready when ordering.
How to place your order
Once you have made your selection(s), kindly contact Shawcross Bros. Gloves and we will be happy to receive your order and answer any questions you may have.
You should receive a reply by email or phone in 24 to 48 hours, if not please call 204-667-1042.
As well as ensure to check your Spam Folder.
You can place an order by phone, email or through our web site.
Unfortunately, all sales are final on US and International orders.
Rick Shawcross
Shawcross Bros. Gloves
3825 Rebeck Road
East St. Paul, MB Canada
R2E 1C4
Telephone/Facsimile: (204) 667-1042
E-mail: shawcros@mts.net
Website: http://www.shawcrossbros.com